About Us

Our technologies were established when the ERSO(Electronics Research & Service Organization) of ITRI(Industrial Technology Research Institute), transferred the technologies of key components of transmitters from Teledyne and CPI. We provide high-quality, high-frequency, high-power microwave system assemblies and maintain various high-voltage power and RF systems for military and commercial applications.
Avionic Products

Manufacturing Traveling Wave Tube Amplifier for Satellite Communication Microwave Communication Sub-system and Component Maintaining Military Radar Systems
Commercial Products

Microwave Transmitter for Satellite News Gathering Vehicle High Voltage Power Supply for X-Ray Generator RF Generator for Semiconductor Equipment Microwave Generator for Medical Device

Agency Products

Teledyne Technologies Inc.
(Traveling Wave Tube, TWT)
Information security policy

Link Wave Aerospace's information security management goal is to "ensure the confidentiality, integrity and availability of information assets under the conditions of compliance with laws, regulations and contracts, and provide continuously available services."
In order to achieve our information security management goals, we have established a company's information security management system with reference to the requirements of ISO/IEC 27001 international standards, and adopted appropriate protection measures for important information assets within the scope of our information security management system to maintain the information assets. Confidentiality, integrity and availability enable smooth and safe execution of various businesses, provide customers with excellent services and meet their needs.
Information security scope

The detail of our scope rules are based on the ISMS-1-002 Statement of Applicability
Mobile device policy
Teleworking policy
Access control
User access provisioning
Cryptographic controls
Key management
Clear desk and clear screen policy
Backup policy
Information transfer policies and procedures
Responsibility
Link Wave Aerospace's information security representative promises to continue to invest in the improvement of information security, equipment and services to eliminate or reduce the doubts about the information security risks of employees, suppliers, contractors and other interested parties, and to give them the greatest confidence.In order to ensure the implementation of our information security management system and to meet the needs of our operations, the various operating procedures should be based on the company's information security management objectives, and work flow objectives should be set.
Certificate
Our company is committed to improving product quality, information security and high-quality supply, and has obtained the following certificates.
ISO9001 Certificate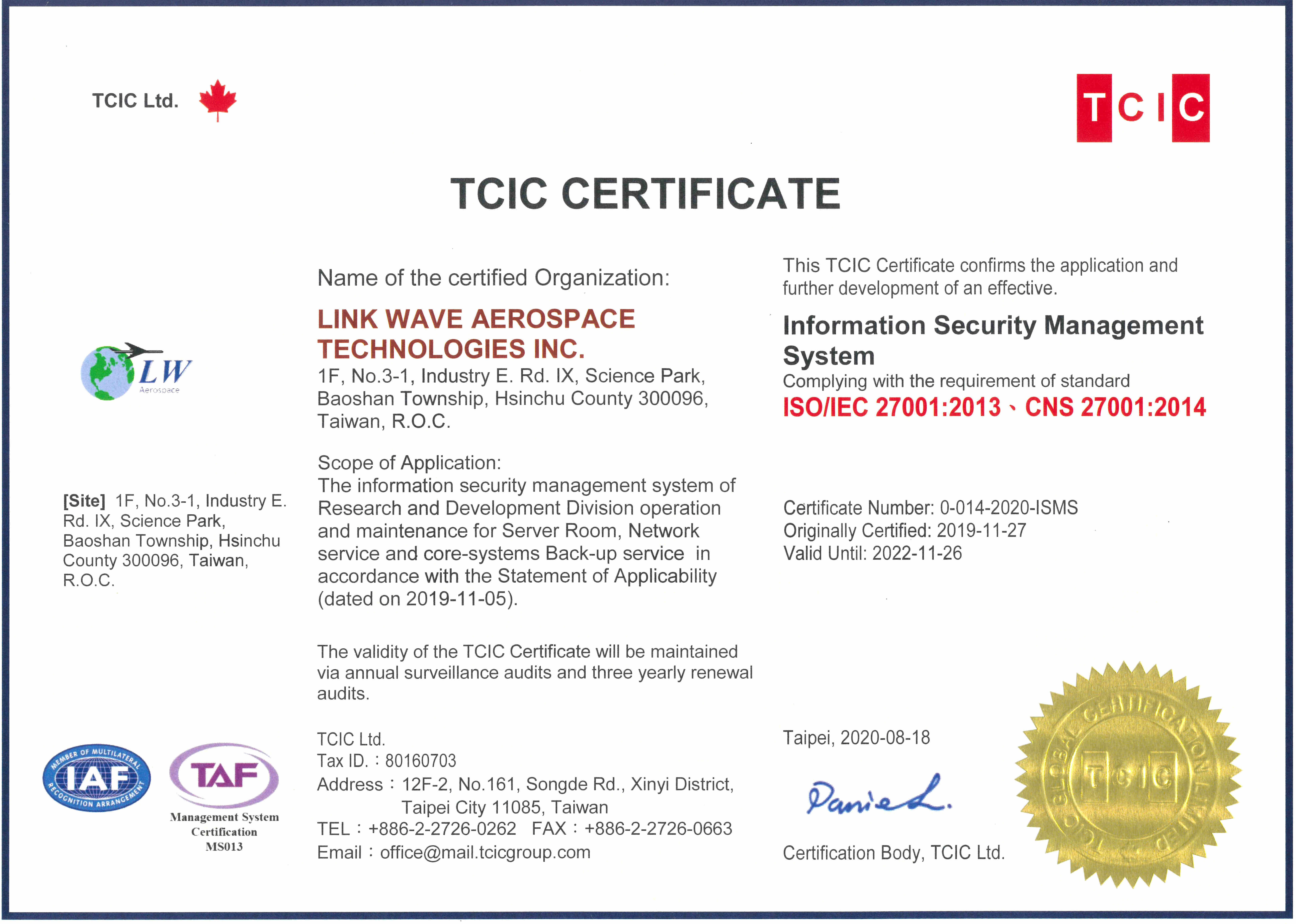 ISO27001 Certificate